So I seen these GIF reviews around the book blogasphere for the longest time..
And I decided why not do one of my own..
So here is my GIF review for The Fangirls Guide to the Galaxy by Sam Maggs
---
First of all the title…
The FANGIRL'S Guide to the Galaxy
Now as the title says this is a guide. Not an actual story. In this book there is many types of fangirls.
There is the Marvel Fangirl…
The Gaming Fangirl….
And what I am….the BOOK FANGIRL!!!
(I could probably add a thousand GIF's to show my book fandomness)
Now one of my personal favorite things about this book was the glossary.
Yes the glossary.
Now Mom and Dad always have to ask what "OTP" mean and "I ship it" means everythime one of them read my reviews so from now on LOOK IN THE GUIDE AND YOU WILL SEE THAT I'M NOT TALKING NONSENSE!
IT HAS EVERY SINGLE WORD YOU CAN IMAGINE IN THE FANGIRL DICTIONARY!
OTP? √
Canon √
Fanfiction √
Bromance√
This guide even introduced me to all these book convention (Which BTW I might be going to Yallfest)
But there is one thing that I have to admit.
I don't know when I'm ever going to use this.
Yes it was a fun read…but it was a one time read.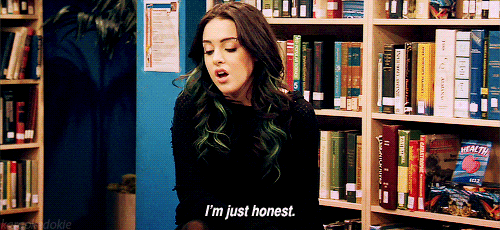 But the question is how much would I give it?
7/10
I liked it, I enjoyed reading it, but the reality is..I'm probably never going to use it again
THE END!!
---
That was the weirdest review I ever wrote. I don't even know how to end it. The end? That was the only thing I could think of!! I did my best!!